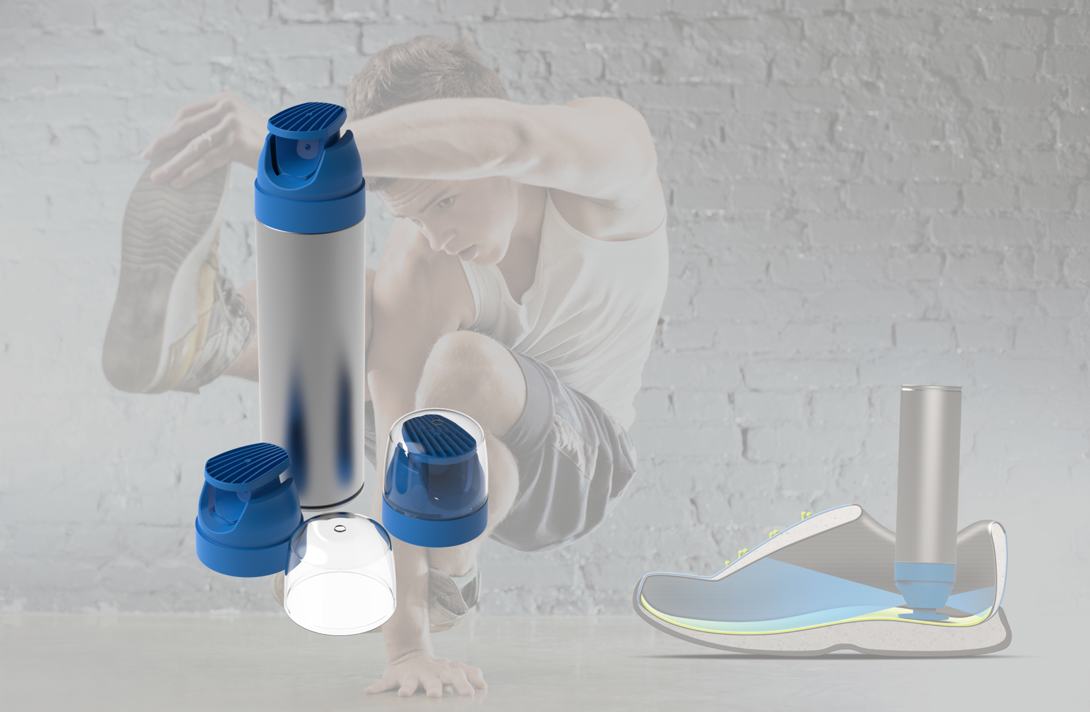 Need to freshen up shoes after intensive activity? Here is an effective and user-friendly solution for the removal of unwanted odours in shoes or boots. Weener Plastics (WP) has developed Carl, a smart shoe deo spray concept with two sprays circulating in opposite directions. In addition, Carl is a very sustainable solution. It has been especially designed to be produced from Post Consumer Recycled (PCR) polypropylene, supporting the circular economy. Carl will be presented at the Aerosol & Dispensing Forum in Paris, 29 – 30 January 2020.
Carl is an innovative aerosol spray actuator that can be applied quickly and easily. The aerosol can be placed in an upside-down position in the shoe. Upon actuation, it sprays to the front and the back to reach the whole inside. This new spray concept is interesting for brands, private labels and trademarks active in retail as well as in professional markets. The substantial customer interest from Europe, Asia and South America already shows the attractiveness of this unique product.
The two functional sprays are generated using WP's proprietary Integrated Spray technology. This allows easy customization with different spray patterns, possible spray openings and channel designs, available over caps and decoration. Carl has a diameter of 45 mm and fits on tinplate cans and aluminium transfer shoulder cans.
Sustainable solution
Carl is produced in just one single piece and has no POM insert. In line with WP's strategy to stimulate the circular economy, this actuator can be produced from Post Consumer Recycled polypropylene (PP-PCR). The mono material product can be easily recycled.
Integrated Spray Technology
Weener Plastics developed a proprietary spray solution with a patented technique, integrating both the actuator and insert. The double spray orifices of the actuator are positioned just above the stem to optimize the control and performance when activating the aerosol. Special chambers and channel design stimulate the acceleration into a swirling pattern.
10 Dec 2019