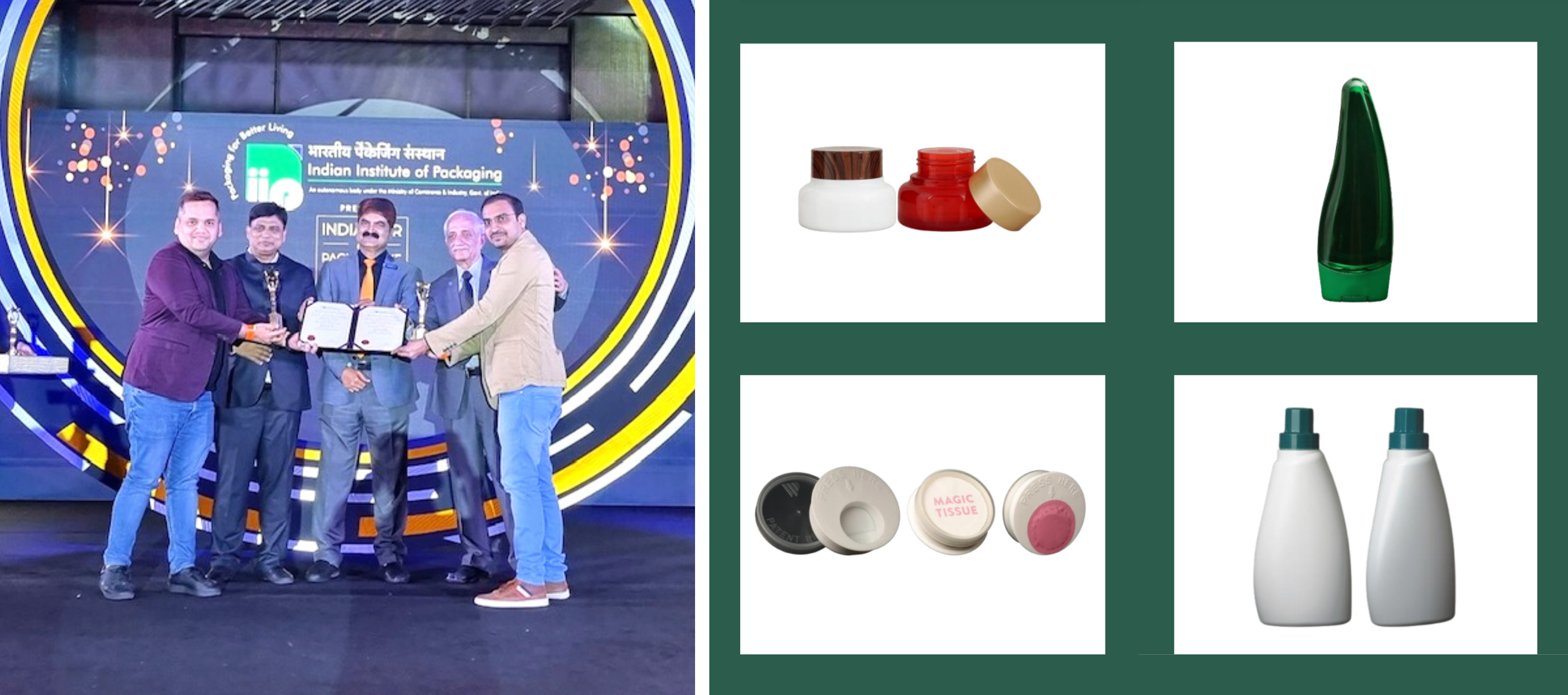 To encourage excellence in packaging design, innovation and technology, the Indian Institute of Packaging (IIP) organizes the annual Indiastar Awards. The contest, established in 1972, is firmly entrenched and the most popular event for India's packaging industry. Entries submitted are judged on five criteria: originality of design, visual appeal, cost effectiveness & overall packaging economics, eco-friendliness and user convenience.
WP India was delighted to participate and even received 4 awards for their innovative packaging developments in multiple categories:
Aloe PET Stand-up, 120 ml
This pack has a unique shape, giving distinct association with a fresh aloe vera leaf. This is further enhanced by the bright colors. Thanks to the stand-up position, the pack always dispenses the aloe vera gel, which is generally thick in consistency.
Detergent Bottle with 50% PCR, 500 ml
This detergent bottle is produced with 50% Post Consumer Recycled polyethylene. The usage of PCR does not affect the mechanical properties of the product, thereby guaranteeing good processability at the filling lines. PCR does not disturb the recycling stream and contributes to a circular economy.
Fortune Jar, 50 ml
An elegant cosmetic jar combining the luxury look of glass with the unique advantages of plastic. Many decoration options are offered for customization, from metallization to spray painting and in addition lid engraving. It is the only technology in India to produce a high-end plastic jar that perfectly mimics the traditional glass jar.
Wonder Magic Tissue
A distinctive on the go package for wet tissues. It creates a unique consumer 'sensorial' as the customer can press and moisturize the tissue, further enhancing the freshness perception of the product. The mono-material tissue pack is fully recyclable and a good alternative for the less environmentally friendly laminated pouches. A handy package with a magic touch.
Innovation and sustainability have always been essential drivers in WP's product developments. The diverse range of advanced skills, know-how and operational excellence capabilities make WP a preferred supplier.
08 Mar 2022